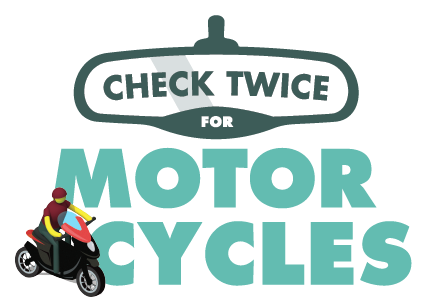 Californians love their motorcycles. Whether it is riding through winding mountain roads or along our state's scenic coastlines, favorable weather makes riding appealing year-round. With nearly a million registered motorcycles, safe riding is a shared responsibility of drivers and riders. While riding is enjoyable on a warm California day, it requires alertness and skill to do so safely.
Motorcyclists face additional dangers because they are harder to see and out in the open, without the same protections that other vehicles have; motorcyclists are 28 times more likely to die in a crash than someone inside a car.
However, drivers, riders, bicyclists and pedestrians can minimize the risks by understanding how to interact with each other and take the necessary safety precautions so everyone will go safely.
Riders
Always wear a DOT-compliant helmet.
Never ride while impaired.
Watch your speed and keep your distance.
Wear protective gear like gloves, leather clothing and reflective tape that makes it easier for other drivers to see you.
Keep your headlights on, even during the day.
Signal well in advance before changing lanes.
Be visible. Communicate your intentions to drivers. Don't assume drivers see you.
Drivers
Always check twice for motorcyclists, including blind spots.
Never follow a motorcycle too closely.
Allow enough space when making a turn.
Be courteous and never share a lane with a motorcycle.
Use your signal when changing lanes.
California law does not prohibit motorcycles from passing other vehicles going in the same direction in the same lane, a practice also known as "lane splitting," "lane sharing" or "filtering."
The California Highway Patrol (CHP) developed educational safety tips, encouraging riders to use extreme caution when lane splitting:
Consider the width of lanes, size of surrounding vehicles and current roadway conditions before lane splitting.

The faster you are traveling compared to other traffic, the more dangerous it is to practice lane splitting.

It is typically safer to split between the far left lanes.

Avoid lane splitting next to large vehicles such as big rigs, buses and motorhomes.

Riding on the shoulder is still illegal. It is not considered lane splitting.